Flat Pack Kitchens
Whether it is an entirely new kitchen, or you are upgrading your existing kitchen, a flat pack or pre-assembled kitchen is a great option that gives you style and affordability.
Choose the colours, materials and accessories.
Choose the ones to suit your taste and budget – You are bound only by your imagination!
Designers by trade.
Allow our designers to help you make the best use of your space. If you prefer to design your own, you can use EZIKIT's Online Kitchen Designer (OKD). Save your design for later and when you are ready, send it to us for an estimate or quotation.
Install DIY with our support.
When the design is finalised, you can choose to install DIY with the support of our staff, or your cabinets can be supplied pre-assembled ready for you or your builder to install.
Pre-assembled by us for you.
To save you or your builder time, we offer the popular option of delivering your kitchen or cabinets to you pre-assembled, ready to install.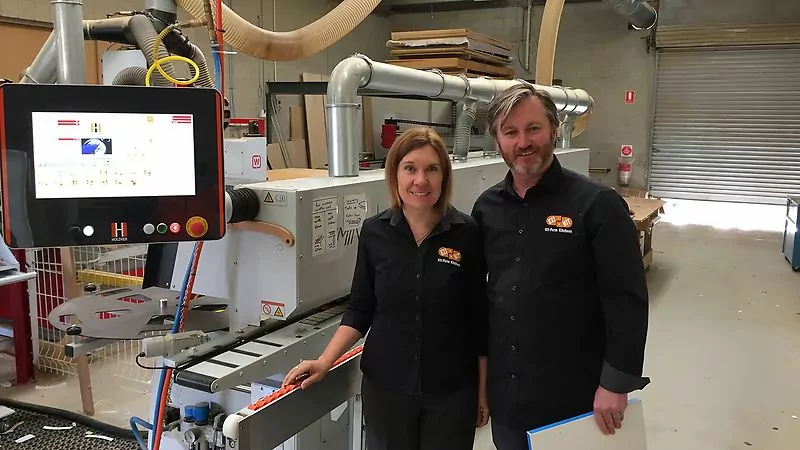 We're just as proud of how we do things as you will be of your new kitchen.
Why Flat Pack?
Transport your cabinets to anywhere in the state
Easily bring your cabinets into your home and put them together at your leisure
The ultimate when it comes to saving $$$
The satisfaction of DIY
Why Pre Assembled?
Save time and money when your builder no longer needs to assemble your cabinets
Keep your worksite clear as your cabinets can be delivered when you are ready for them
Get straight on to installation when your cabinets arrive
Complex fittings and designs have the hard work done for you
You still get the satisfaction of DIY
Frequently asked questions
How much does an ezikit kitchen cost?

We find the average kitchen with standard finishes is between $6,000-10,000. Small kitchens could be as little as $3,000-5,000 and very large kitchen from $10,000-20,000. Premium finishes like engineered stone benchtops could add $3,000-6,000 to the average kitchen.
What can I purchase off the shelf?

EZIKIT are a custom build company, so we do not have cupboards sitting on the shelf and likewise there is no price list. Everything is custom designed, costed and then made for your project. If you only need doors or benchtops to reface your kitchen, we can assist with that also, however you should speak to your builder or installer first to prepare a list and sketches so that we can provide you with a quote.
Why is the price so good? What am I missing out on?

It isn't uncommon to save 30-50% on a kitchen with EZIKIT, but there is nothing inferior to what you may get from other suppliers. As we manufacture in house with strict quality processes and checks, you will find our quality is actually better than most.

You benefit from our investment in state of the art machinery and systems, keeping us efficient and your costs as low as possible. In addition we have great buying power due to the amount of kitchens we produce each week.

Of course you can also play a part in your savings by providing initial measurements and booking a showroom consultation. It all adds up to significant savings so you get more for your money.
How customised and is it only kitchens?

Custom heights, widths and configurations are no problem, and you don't pay more as a result. How it is drawn is what is made as our 3D design software connects to our machinery.

Kitchens, laundries, wardrobes, bathroom cabinets, office fitouts, custom furniture… It is all possible with EZIKIT.
I'm not sure about DIY, can EZIKIT still help me?

After 18 years, most of our new enquiries come from referrals and many are not planning a DIY project. A very popular option is for us to provide your cabinets preassembled & delivered in home to simplify the DIY process or in readiness for your builder or installer.
How do I go about getting a design together?

You are welcome to visit our showroom any time and to chat to our team, but when you are ready to explore your space we'd recommend making a booking for a design consultation. Bring along your measurements, sketches, ideas and scrapbook. The end result will be a 3D design and quotation with all the options you would like considered.

Some people prefer to email their house plans and ideas to us, or use our online design tool. That is no problem either – check out our 'Resources' page to make sure you are supplying the right information for us to provide a quote.

In-home consultations can also be arranged with a nominal 'home visit' fee depending on your location. Charging for in-home visits helps us keep our project price as low as possible. Please note that in-home consultations are not available for refacing or benchtops only. Speak to us if you are after advice on your options for refacing.