Kitchen Benchtops
EZIKIT offers a great range of benchtop options in our showroom, providing you with the flexibility to DIY or ready-to-install.
Laminate Benchtops
Benchtops that are practical, affordable and flexible
There are literally hundreds of colours and finishes available in laminate. Visit our city showroom to see samples, or below are links to the most popular laminate suppliers in Australia.
EZIKIT proudly supplies specialised laminate products, including:
Tightform (6mm) and D Mould (10mm) edges (Tightform available in most laminates)
Laminex Diamond Gloss with either D mould or matching PVC edges
Polytec Woodmatt for natural feeling woodgrain finishes
Super slim 21mm laminate tops for a unique & elegant look in a select range of Polytec laminates
Fenix scratch and fingerprint resilient laminates
For online colour selections, visit:
Caesarstone Benchtops
A premium and hardwearing engineered stone benchtop
Caesarstone is our premium benchtop, offering great flexibility in design, along with superb heat & scratch resistance. This is the biggest selling engineered stone in the country! Engineered stone pricing will always include installation.
The stone industry has had much focus in recent years due to cases of silicosis throughout the country, particularly where poor manufacturing practices have been used and safety of workers has not been a priority. Caesarstone have taken the lead in the industry, setting the standards for handling, fabrication and installation of these products.
Visit our showroom to see large samples of the range, or visit www.caesarstone.com.au.
Timber Benchtops
A timeless favourite with warmth and character
Timber benchtops continue their popularity throughout Australia, bringing a natural product into the home. EZIKIT's timber of choice is Tasmanian Oak, a hardwood from renewable sources providing a classic tone that matches popular flooring and mouldings.
EZIKIT can supply tops raw for those who want to DIY their finish or stain their tops, or will finish tops in a natural and serviceable 'hard wax' finish.
Check out the Tasmanian Oak benchtops on display when you visit our showroom.
Stone Ambassador Benchtops
A premium product at a great price
As one of the most scratch and heat resistant products available for your benchtops, Stone Ambassador have quickly established themselves as a serious player in the engineered stone market through the offer of a great range that includes both the affordable classics and luxurious look and feel of veined stones.
Visit our showroom to see samples of the range, or visit www.stoneambassador.com.au.
Acrylic Benchtops
Mirostone & Evostone
Acrylic benchtops are available in solid 20mm thickness, removing the need for labour intensive fabrication of edges. It is suitable for kitchen benchtops, vanities, laundry units or office furniture with the look of stone at a more affordable price.
This material can be cut with normal woodworking tools, so can be provided cut and ready to install or uncut for full DIY installation. EZIKIT can also offer onsite seamless joins and repolishing.
Key features include:
DIY installation with silicone butt joins or fully installed with seamless joins
Undermount sink compatible
Custom shapes are no problem
Totally hygienic & 100% waterproof
Prices is generally somewhere between laminate and engineered stone
A repairable benchtop product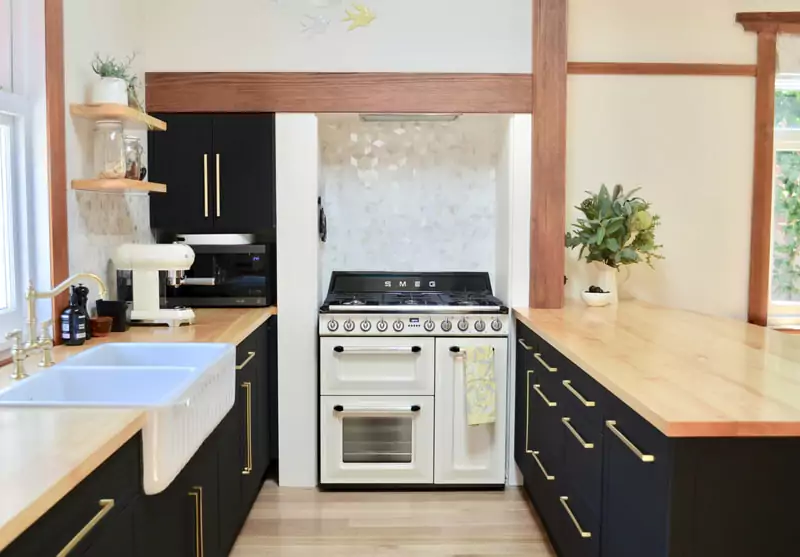 Frequently asked questions
How much does an ezikit kitchen cost?

We find the average kitchen with standard finishes is between $6,000-10,000. Small kitchens could be as little as $3,000-5,000 and very large kitchen from $10,000-20,000. Premium finishes like engineered stone benchtops could add $3,000-6,000 to the average kitchen.
What can I purchase off the shelf?

EZIKIT are a custom build company, so we do not have cupboards sitting on the shelf and likewise there is no price list. Everything is custom designed, costed and then made for your project. If you only need doors or benchtops to reface your kitchen, we can assist with that also, however you should speak to your builder or installer first to prepare a list and sketches so that we can provide you with a quote.
Why is the price so good? What am I missing out on?

It isn't uncommon to save 30-50% on a kitchen with EZIKIT, but there is nothing inferior to what you may get from other suppliers. As we manufacture in house with strict quality processes and checks, you will find our quality is actually better than most.

You benefit from our investment in state of the art machinery and systems, keeping us efficient and your costs as low as possible. In addition we have great buying power due to the amount of kitchens we produce each week.

Of course you can also play a part in your savings by providing initial measurements and booking a showroom consultation. It all adds up to significant savings so you get more for your money.
How customised and is it only kitchens?

Custom heights, widths and configurations are no problem, and you don't pay more as a result. How it is drawn is what is made as our 3D design software connects to our machinery.

Kitchens, laundries, wardrobes, bathroom cabinets, office fitouts, custom furniture… It is all possible with EZIKIT.
I'm not sure about DIY, can EZIKIT still help me?

After 18 years, most of our new enquiries come from referrals and many are not planning a DIY project. A very popular option is for us to provide your cabinets preassembled & delivered in home to simplify the DIY process or in readiness for your builder or installer.
How do I go about getting a design together?

You are welcome to visit our showroom any time and to chat to our team, but when you are ready to explore your space we'd recommend making a booking for a design consultation. Bring along your measurements, sketches, ideas and scrapbook. The end result will be a 3D design and quotation with all the options you would like considered.

Some people prefer to email their house plans and ideas to us, or use our online design tool. That is no problem either – check out our 'Resources' page to make sure you are supplying the right information for us to provide a quote.

In-home consultations can also be arranged with a nominal 'home visit' fee depending on your location. Charging for in-home visits helps us keep our project price as low as possible. Please note that in-home consultations are not available for refacing or benchtops only. Speak to us if you are after advice on your options for refacing.